May 19, 2023
Authored By GreerWalker
On Wednesday, May 17th, Charlotte Business Journal hosted a ceremony to celebrate their 40 Under 40 honorees, including GreerWalker's own, Stacia Neugent. These professionals were awarded based on their business achievements, as well as their contributions to the Charlotte community.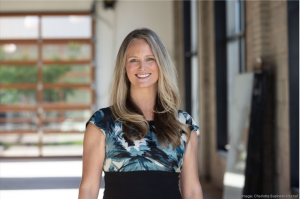 With an exemplary track record of leadership and achievements, Stacia Neugent has consistently made a lasting impact in both her professional career and the Greater Charlotte community. As the president of the Charlotte Chapter of Commercial Real Estate Women (CREW), she has made an impact on many in the real estate community in Charlotte.
Beyond her role with CREW, Stacia has demonstrated unwavering commitment to community enrichment. Her six-year tenure on the board of the Children's Theatre of Charlotte has brought transformative experiences to many, fostering a love for the arts, and nurturing creative potential.
Within GreerWalker, Stacia has been an invaluable asset, serving as a key member of the leadership team and spearheading the real estate and motorsports practice areas. Her guidance and determination have propelled the firm to new heights of success.
Furthermore, Stacia's dedication to fostering a supportive environment led her to oversee the GreerWalker Women's Network, where she pioneered a brand-new mentorship program. This initiative has facilitated invaluable relationships among women across various levels and departments, fostering growth, collaboration, and empowerment.
Highlighting her versatility, Stacia also led a transformative project that implemented new tax software within the firm. This effort resulted in a remarkable increase of over 800 additional hours of capacity for GreerWalker's tax department, streamlining operations and enhancing client service.
Stacia has been awarded numerous accolades throughout her career, including being honored as one of NCACPA's "Women to Watch" in 2018, winning CREW Charlotte's esteemed "Member of the Year" award in 2019, and being recognized as one of Practice Ignition's Top 50 Women in Accounting that same year. In 2022, her commitment to professional growth and excellence led her to complete the national CREW Leadership Certificate Program. Her profile by the Charlotte Business Journal can be viewed here.
About GreerWalker
GreerWalker LLP provides tax, accounting, and advisory services focused on the needs of privately held middle-market companies and their owners throughout the US and around the globe.
Our affiliate GreerWalker Corporate Finance LLC offers exit planning and merger and acquisition services to provide a complete, integrated solution for middle market companies and their owners.
Customized wealth planning for every stage of life is offered through our strategic partner, Choreo, LLC. Choreo, LLC is an investment adviser registered with the U.S. Securities and Exchange Commission (SEC). Registration as an investment adviser does not imply a certain level of skill or training of the adviser or its representatives.
With over 135 associates, we are one of the ten largest CPA firms in our region and among the top 200 CPA firms in the United States. We have repeatedly been recognized as one of the nation's "Best of the Best" accounting firms by Inside Public Accounting based on our overall superior financial and operational performance.
GreerWalker is a proud member of RSM US Alliance, a premier affiliation of independent accounting and consulting firms in the United States. RSM US Alliance provides our firm with access to resources of RSM US LLP, the leading provider of audit, tax and consulting services focused on the middle market. RSM US LLP is a licensed CPA firm and the U.S. member of RSM International, a global network of independent audit, tax and consulting firms with more than 43,000 people in over 120 countries. Our membership in RSM US Alliance has elevated our capabilities in the marketplace, helping to differentiate our firm from the competition while allowing us to maintain our independence and entrepreneurial culture. We have access to a valuable peer network of like-sized firms as well as a broad range of tools, expertise, and technical resources. For more information on how GreerWalker can assist you, please call (704) 377-0239.