March 3, 2023
Authored By GreerWalker
GreerWalker LLP's Greenville office received the Chairman's Award, Campaign Award of Excellence, and the Advancement Award at the United Way of Greenville County's "Stronger United" Awards Ceremony on March 2, 2023.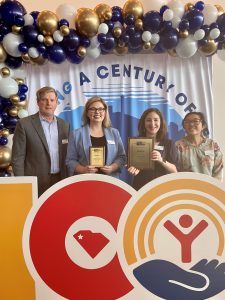 Qualifications for these awards are based on a number of criteria, including percent increase in employee giving, percent of employee participation, and where the campaign ranked amongst other companies. In 2022, 100 percent of GreerWalker's Greenville office employees participated in their annual United Way campaign.
The investment made by GreerWalker allows United Way of Greenville County to mobilize people and resources to improve lives, strengthen the community, and advance equity for the benefit of all. United Way of Greenville County is building a Greenville County where all people have access to the opportunities to achieve their full potential.
Visit the United Way of Greenville County website for more information about the organization and their centennial campaign.
About GreerWalker
GreerWalker LLP provides tax, accounting, and advisory services focused on the needs of privately-held middle-market companies and their owners throughout the US and around the globe.
Customized wealth planning for every stage of life is offered through our strategic partner, Choreo, LLC. Choreo, LLC is an investment adviser registered with the U.S. Securities and Exchange Commission (SEC). Registration as an investment adviser does not imply a certain level of skill or training of the adviser or its representatives.
With over 120 associates, we are one of the ten largest CPA firms in our region and among the top 200 CPA firms in the United States. We have repeatedly been recognized as one of the nation's "Best of the Best" accounting firms by Inside Public Accounting based on our overall superior financial and operational performance.
For more information, please visit greerwalker.com.
GreerWalker is a proud member of RSM US Alliance, a premier affiliation of independent accounting and consulting firms in the United States. RSM US Alliance provides our firm with access to resources of RSM US LLP, the leading provider of audit, tax and consulting services focused on the middle market. RSM US LLP is a licensed CPA firm and the U.S. member of RSM International, a global network of independent audit, tax and consulting firms with more than 43,000 people in over 120 countries. Our membership in RSM US Alliance has elevated our capabilities in the marketplace, helping to differentiate our firm from the competition while allowing us to maintain our independence and entrepreneurial culture. We have access to a valuable peer network of like-sized firms as well as a broad range of tools, expertise, and technical resources. For more information on how GreerWalker can assist you, please call (704) 377-0239.